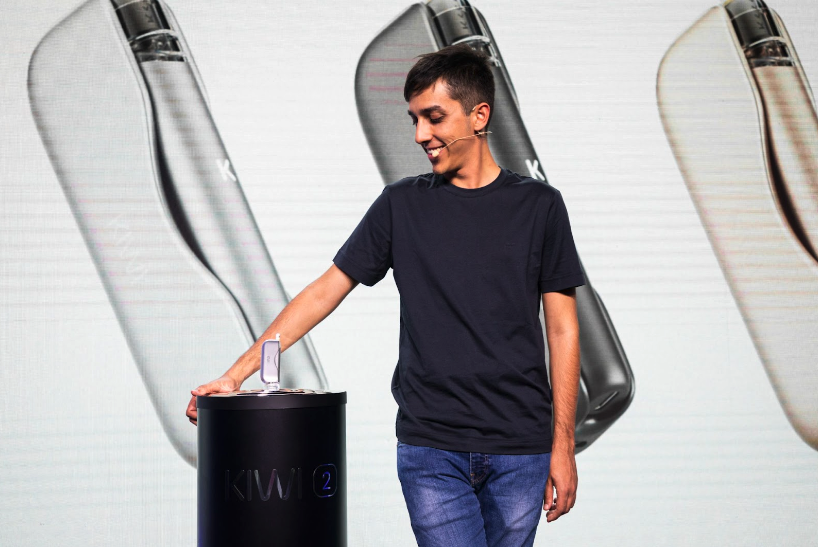 On September 5, 2023, at 4:30 PM, we witnessed the live presentation of the highly anticipated KIWI 2 from the studios of the picturesque Talent Garden in Milan. This is the latest creation from our team, promising to redefine the vaping landscape.
The presentation was led by Mattia and Vincenzo Sparacino, the founders and owners of the brand.
"KIWI's mission," explained founder Mattia Sparacino, CEO of Vapour International, "has always been to reimagine the vaping experience. And today, we are once again pushing in that direction." The strengths of this new product are expected to be the innovative technology combined with a fresh and reimagined design compared to current standards. "At KIWI," Sparacino continued, "we see each of our products as a blank canvas, an opportunity to bring art, science, and design into a perfect balance. This presentation will represent another chapter in this vision. We have listened to our customers' feedback, observed the industry, and dared to dream big. I can't wait to share what we have created with the world."
Click here to revisit the launch event.
High-Quality Design and Materials
The KIWI 2, with its elegant design, embodies elegance through a unique and even more sophisticated concept that exudes style and refinement.
The use of high-quality aluminum alloy ensures a comfortable grip and a premium appearance.
Technological Innovation
The KIWI 2 Starter Kit features cutting-edge technology with various implementations that make the device a 360-degree revolution.
The powerful Powerbank battery of KIWI 2 boasts a capacity of 1800 mAh, providing up to 96 hours of autonomy.
The new Smart Vibration Technology enhances the vaping experience, adding a satisfying touch with gentle vibrations during use.
The Low Liquid Reminder Technology in KIWI 2 offers protection against overheating and helps regulate the device's temperature, preventing the unpleasant burnt taste in your mouth.
New Pre-filled Pods

In addition to the innovative Starter Kit, the new KIWI Pre-filled Pods were also introduced, containing liquid inside them already. These Pods provide a perfect solution for those who are not familiar with the world of vaping.
The recent launch of the KIWI 2, positions it as one of the most innovative and revolutionary devices in the vaping industry.